PMP® Certification Preparatory Course
PMP® Certification Preparatory Course - Course
Why PMP®?
In today's flexible organization, the boundaries between functions are becoming less defined. You are most probably becoming more involved in working on cross-functional projects or leading global teams, even though your title is not necessarily 'project manager'.
To be effective in this capacity, you need to acquire knowledge, skills and other competences which extend beyond your formal role. Every day we hear of a project that has escalated in cost or has been repeatedly delayed. What is even worse (and often unreported), is that many completed projects leave their ultimate business users unsatisfied.
Could we do better? Definitely! This project management course will enable you to anticipate and cope with issues and problems that you may meet.
My route to PMP certification with EY Academy of Business – download our handy infographic: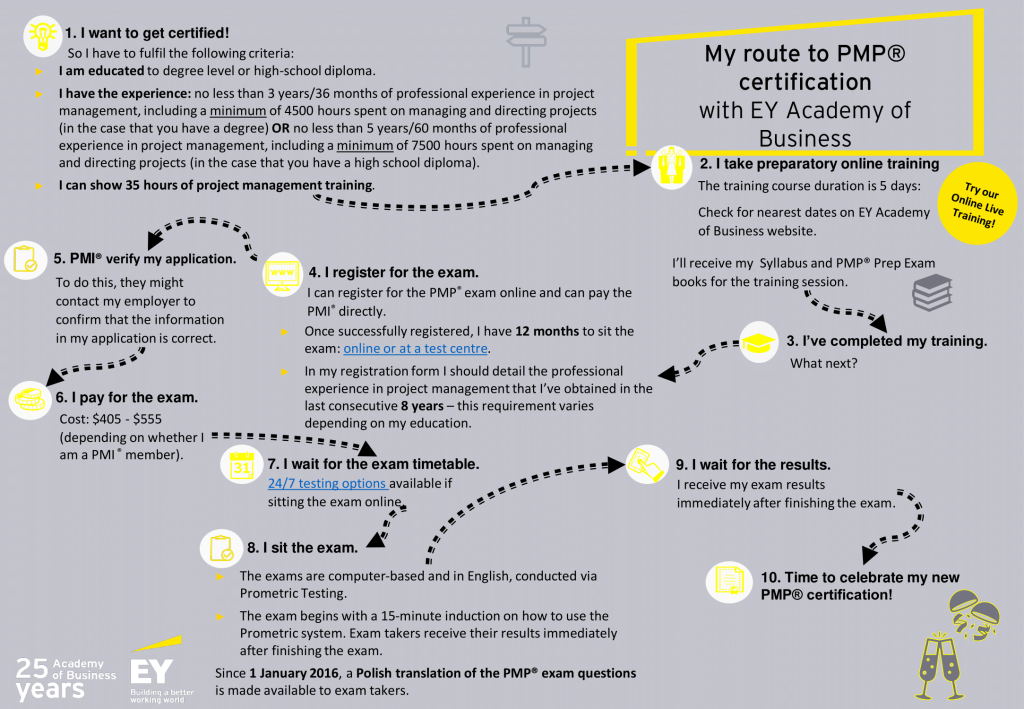 The course is particularly addressed to:
Managers and executives who already have practical knowledge and experience in project management
Heads of project teams and team members
Anyone who would like to systematize their knowledge of project management and obtain the international PMP® certificate
Our courses are intensive and are specially designed to help the candidate apply effective examination techniques. They usually take place over weekdays, conducted solely in English.
The courses are structured as follows:
a two-day introductory course (part I) to put candidates into context,
a three-day course (part II) combined with a revision course during which the candidates practise exam-style questions.
Our course tutors are experts in their field and all have professional experience.
The comprehensive course materials have been specially prepared to cover the PMBOK® Guide Syllabus. They include an extensive bank of questions and answers together with the PMBOK® Guide.
What is the everyday's agenda?
We will follow a similar schedule on all five days:
8:30 – The virtual classroom opens, feel free to join to make sure no technical problems hinder your participation
9:00 – Course start
~12:30 – 13:30 – Lunch break
17:00 – Course end
Besides the longer lunch break, you will have 10 mins of break every hour.
What's included in the price?
The course material is a digital, printable PDF that you can either follow on your screen or print if you prefer. You will also receive access to The PMP Exam Simulator – a questions database with 2200+ questions, up to date to the current requirements of the exam. This is going to be your most important resource for the individual preparation for the exam. On the course, we also discuss the paid PMI membership that includes the PMBOK in a legal, downloadable format, and how it could be accessed at no extra cost when you are preparing for the exam.
Is this questions database something like Rita's PMP Exam Prep book?
No, it is more like RMC's FASTrack. We found this to be a lot more useful than anything in a book format because you can practice for the exam exactly how it will be conducted. It also contains more than 2200+ questions compared to Rita's book which contains 400+. We provide this database through a trusted, internationally renowned partner, and you can find all the details on the following website:
https://www.project-management-prepcast.com/pmp-exam/the-pmp-exam-simulator
Are the simulator questions from the previous year's exam or are they different?
PMI never publishes their questions, so all such simulators try to go as close as possible using various ways of coming up with similar questions, based on the Exam Content Outline PMI publishes. It is continuously updated to any changes PMI makes to their exam.
Is PMI membership for the year (January – December) or 12 months from the day you sign up?
Membership is for 12 months, regardless of when you sign up.
How long does it take after completing the course before I can take the exam?
Best case scenario – in three weeks after the course (you are already prepared, your application is accepted immediately, you sign up for the closest date once eligible).
Worst case scenario – in two and a half months after the course (your application is selected for an audit – it is random and takes about two months to complete).
Does the PMI check experience?
Every submitted application is checked for experience. About 10% of applications are selected for an in-depth audit – it is random and takes about two months to complete.
How long does it take to prepare for the exam after the course?
Individual preparation after the course takes about 20-40 hours of honest work, best spent running fully simulated tests using the question database.